Page Outsourcing was established in the Netherlands in 2020. As one of the brand's key markets with an ambitious growth strategy, we offer three types of recruitment outsourcing solutions. These are RPO (recruitment process outsourcing) for permanent hires; MSP (managed service provider) for temporary hires, and TTA (total talent acquisition) for both. Our project-on-demand services fulfil more short-term projects covering specific staffing needs such as setting up a shared service centre. In addition, our consultancy arm assists with special projects like D& I or environmental strategies, as well as creating efficient onboarding and exit programmes.
Attracting and retaining the right people
As companies increasingly feel the pressure of finding quality candidates, investment in technology and professional HR solutions are crucial factors in sustaining healthy growth within their organisations. This is where an expert partner with a proven track record like Page Outsourcing can help.   Our teams have well-established networks and highly specialised expertise across sectors like technology, healthcare and life sciences, finance and accounting, sales and marketing, supply chain and logistics, legal and engineering, HR, business support and customer services.
Providing powerful recruitment strategies
We believe in partnering with clients, rather than simply providing services. This means giving access to an extensive global footprint of skills and know-how driven by a team of agile, solutions-led consultants who have detailed, local market knowledge and are able to deliver across 25 specialist disciplines. With 40+ years of recruitment expertise and 8,000+ professionals spread across 37 countries and 139 offices worldwide, we bring the full weight of PageGroup to the table.
Our clients also benefit from our proprietary state-of-the-art technology for talent solutions, an extensive database of candidates, and business intelligence and reporting services. These not only offer insight into where the market is today but analyse where it is headed and what businesses need to do to be ready.
Ongoing investments into our Netherlands business, complemented by delivery centres around the world, puts Page Outsourcing in an exceptional position to deliver fast, effective solutions to an ever-changing, and often unpredictable market.   Combined with highly scalable, cost-effective and tailormade processes, Page Outsourcing will help to grow and drive your business forward well into the future.
Your Page Outsourcing contact in the Netherlands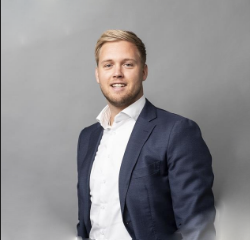 Jeroen Tepperik
  Senior Executive Manager
 T: +31 631997424