India is one of Page Outsourcing's key markets for RPO, MSP and consultancy. With more than a decade's experience in the Indian markets, we have developed significant expertise in diverse functions across Sales & Marketing, Finance & Accounting, Human Resources, Analytics, Technology and Operations. Our specialist approach and continual candidate insights have been instrumental in enabling us to partner with leading multinational corporations, regional and domestic clients for their critical talent needs both locally and globally.  
Page Outsourcing provides clients with customised recruitment solutions for team build-outs on a fixed term, project or continual basis. With solutions ranging across RPO, MSP, recruiter-on-demand and consultancy services, we create long-term plans that support your business goals.  
Speed and agility in a fast-moving market, flexible execution, and the ability to scale quickly are our key deliverables. We look forward to speaking with you about how we are best placed to deliver on your requirements. 
Global insight, local know-how 
With 139 offices spread across 37 countries, we bring significant depth of knowledge and global perspective to hiring. Crucially, this is complemented by a very strong understanding of the local market. We start by creating specialist solutions that add genuine value to client processes, growth aspirations and specific talent needs to achieve their objectives. Then we level up by delivering true RPO solutions offering real benefits, real savings and the ability to scale whether that's within India, across the region or globally. 
Data insight and candidate access 
The large-scale hiring needs of many companies in India rely on being able to build an extensive candidate database locally. Page Outsourcing has the advanced technology and personalised service to achieve this, including programmes such as retargeting in job advertising to reach a wider audience; robust SEO campaigns, and the brand's unique 'Reach Talent' digital marketing campaign.  
Ongoing investments into data analysis and digital marketing strategies mean that we are always one step ahead in understanding the market and being able to deliver client-led solutions.  
Staying ahead of the curve in an unpredictable world 
Our global expertise and insight, combined with our company mission to constantly innovate, puts us ahead of the curve in helping clients develop and grow their businesses through achievable means. There is increasing demand from businesses to address issues like diversity and inclusion, environment and sustainability, and hybrid working models to name just a few. By putting these, and predicted future trends in front of the businesses we work with, we can ensure more informed decision-making processes as well as preempting the challenges ahead.
Your Page Outsourcing contact for India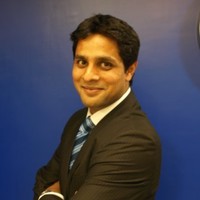 Nitin John Abraham
  Director
  T: +91 22 4236 3336